Hands on summer program for students interested in innovation, design and social justice
In the past decade there has been a growing interest in design thinking and the way it can be used to solve complex social and policy problems. We are emailing you today to inform you of an upcoming opportunity for students interested in design, innovation, and social justice, who might be looking for concrete ways to approach public sector innovation.  At the end of this summer, the Winkler Institute for Dispute Resolution will be running a week long design project for post-secondary students at Osgoode Hall Law School. The project focus will be on justice system innovation, and students who attend will learn cutting edge innovation tools and methodologies – social impact design, empathy design, and design thinking – and apply them over the course of the week to a specific access to justice challenge.
This year, the Justice Design Project (JDP) will run from August 29 to September 2, 2016 at the law school. The "early bird" fee for the week is $599.00 and $699.00 thereafter. Subsidies are available for students who demonstrate financial need.
If you know of any students who might be interested in the project, or would like to learn more about the initiative yourself, feel free to contact me directly (NSalama@osgoode.yorku.ca). For more information about the JDP you may also want to check out this video taken by Canadian Lawyer 4Students Magazine..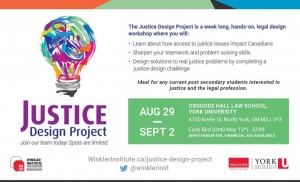 We would greatly appreciate if you could please circulate this email and poster to any student groups or other organizations that might have interested members.